The Adventures Of Alaric Blackmoon - Episode 2: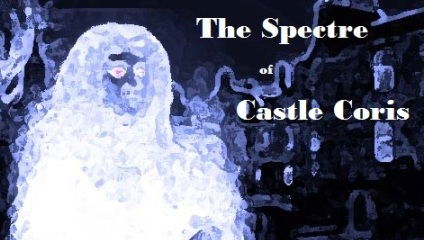 You are Duke Alaric Blackmoon, recently given that title and the duchy of Charlton by a grateful King Kelson as a reward for finding the lost "Axe of Kolt" and helping to rid the land of the Xixon lizardmen.

You are touring the towns and villages of your new demesne when you hear of strange events that were taking place in the town of Corwyn - a "spectre" is rumoured to be killing townsfolk and people are leaving the town in droves.

Can you solve the riddle of "The Spectre of Castle Coris"?
*************************************
* Blorb download location: https://www.adrift.co/game/1443 (Only for use with the ADRIFT 5 Runner)
* Executable download: https://lazzah.itch.io/the-spectre-of-castle-coris
**********************************
What players said about "The Spectre of Castle Coris":
Review by Denk (Denmark) Sunday 8th May 2016:
Yet another great adventure from Larry Horsfield. The Spectre of Castle Coris is the sequel to the Axe of Kolt, and just as its predecessor it is a modern improvement of an old spectrum adventure. This time Alaric Blackmoon has to solve the mystery of a spectre, which terrorizes the town surrounding Castle Coris. The game can roughly be divided into two parts: First Alaric must gather whatever he needs for his quest outside the castle. Afterwards he must enter the castle and free the town of the evil spectre.
The game is rather big but contains a built-in map, which is well-structured and very convenient (except when playing online – download the game instead). There is a nice use of text colors, which gives life to the overall fine descriptions. The implementation is very good and rarely if ever is guess-the-verb an issue. Anyway a vocabulary command is implemented.
The puzzles range from easy to hard and the player must remember to examine and search everything as well as ask the right questions. Note that the game distinguishes between "ASK [person] ABOUT [topic]" and "ASK [person] FOR [object]".
Overall, this is a highly enjoyable game, which just reaches the five-star mark.