The Adventures of Alaric Blackmoon - Episode 7: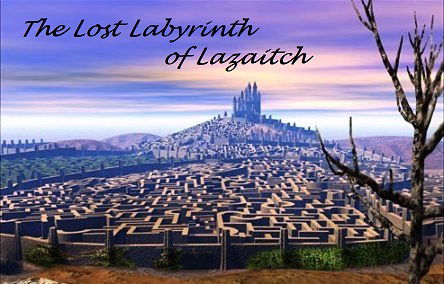 Your friend Magor has discovered the location of a lost grimoire, written by the sorcerer Lazaitch, that contains the secret of perpetual motion, knowledge that will hopefully change the world. The grimoire is in a tower at the heart of a vast labyrinth in a far land beyond an area known as the "Forest of Misery".

You take on the daunting task of travelling to this place - can you find your way through THE LOST LABYRINTH OF LAZAITCH and retrieve the grimoire?
********************************************************
* Blorb download location: https://www.adrift.co/game/1534 (Only for use with the ADRIFT 5 Runner).
* Executable download: https://lazzah.itch.io/the-lost-labyrinth-of-lazaitch
********************************************************
What players said about "The Lost Labyrinth of Lazaitch":
Review by Denk (Denmark), 14th December 2019:
I helped beta-test this game. This is the 7th game in the Alaric Blackmoon series and as usual, it has great puzzles and a good atmosphere.
This time the sorcerer Magor sends you on a quest to find the Grimoire of Lazaitch in another land east of Hecate beyond the Forest of Misery where you will find the Lost Labyrinth of Lazaitch, which you need to go through in order to find the grimoire. The game begins just before you enter the Forest of Misery.
Without revealing too much, you will encounter some objects from previous episodes. However, the game is designed such, that you don't need to have played other episodes - you can just go ahead and play this episode.
The game is written in Larry's usual style and still, as always, each of his games has a unique feel. This game is no exception. I highly recommend this game.