The Intrepid Space Adventures of Mike Erlin - Chapter 3: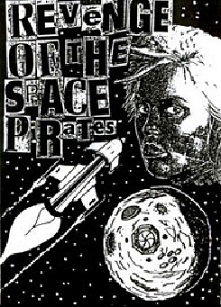 Jaelaine, the High Priestess of the Psian people, whom you met on the "Magnetic Moon", has been kidnapped by the space pirates who trapped your spaceship on the moon.
You have gone under cover to try to rescue her - can you discover where she has been taken to and save her from the clutches of the Space Pirates?
*********************************************************
* Blorb download location: https://www.adrift.co/game/1533 (Only for use with the ADRIFT 5 Runner).
* Executable download: https://lazzah.itch.io/revenge-of-the-space-pirates
*********************************************************
What players said about "Revenge of the Space Pirates":
Review by Denk (Denmark), Saturday, November 30th 2019:
I helped beta-test this game. This is (for the time being) the last game in the Mike Erlin sci-fi trilogy. It is written in Larry's usual style with nice puzzles and an interesting story. Still, it has its own unique original feel.
This game continues two years after the game "Starship Quest". Jaelaine, the High Priestess of the Psian people has been kidnapped. A clue points towards the planet Daris. Thus you travel to Daris as an undercover agent in search of Jaelaine.
As usual the game is well implemented and equipped with the VOCAB command, which can inspire you and help you avoid guess-the-verb problems.
This game is a great conclusion to the series, though I hope the series will continue with some new games, now Larry has converted all his 8-bit adventures to ADRIFT.