The Intrepid Space Adventures of Mike Erlin - Chapter 1: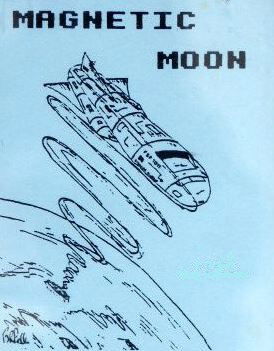 You are Mike Erlin, assistant astro-navigator on the survey spaceship "Stellar Queen". Your ship has been dragged out of space onto the moon of an earth-like planet by a tractor beam and is now trapped on the surface of the moon. Your captain has refused you permission to join the away team that is going to search for the source of the beam, a giant underground installation. You resolve to get off the ship and search for this installation yourself, but first you must get out of the control room un-noticed by the captain and equip yourself for the quest.

Can you free the Stellar Queen from the grip of the "MAGNETIC MOON"?
*********************************************************
* Blorb download location: https://www.adrift.co/game/1524 (Only for use with the ADRIFT 5 Runner).
* Executable download: https://lazzah.itch.io/magnetic-moon
*********************************************************
What players said about "Magnetic Moon":
Review by Denk (Denmark), Wednesday 18th September 2019:
I helped betatest this game.
In this sci-fi adventure you play the role of Mike Erlin aboard the spaceship "Stellar Queen". The spaceship is dragged onto a moon by a tractor beam. It will be up to you to save your ship and crew.
So the game begins. Your first task is to get away from the Stellar Queen since you are not given permission to join the away team. Once you are on the surface of the moon, you will investigate the source of the tractor beam and you will of course encounter some enemies along the way.
It was nice to play a sci-fi adventure for a change after having played Larry Horsfield's six fantasy adventures. However, the writing and the challenging puzzles are very much in Larry's usual style, which means that they are of high quality. As usual, the game is tough so it isn't appropriate for complete newbies but highly recommended to more experienced players.